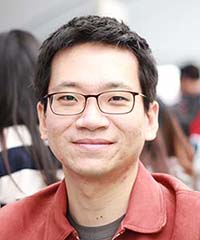 Myungeun Seo
Associate Professor
Graduate School of Nanoscience and Technology and
Department of Chemistry
KAIST
Adjunct Professor
Interdisciplinary Program in Polymer Science and Engineering
KI for the Nanocentury
KAIST
291 Daehak-ro, Yuseong-gu, Daejeon 34141 South Korea
#202 Basic Science Building (E6-6)
#216 Basic Science Building (E6-6)
82-42-350-1119
82-42-350-1110
seomyungeun@kaist.ac.kr
Myungeun Seo received his B.S. (2002), M.S. (2004), and Ph.D. (2008) in Chemistry from the Department of Chemistry at KAIST, Korea. During his Ph.D. research he explored self-assembly of benzamide-containing molecules under the supervision of Prof. Sang Youl Kim and also participated in international collaborations by visiting Prof. Masa-aki Kakimoto's group at Tokyo Institute of Technology, Japan and Prof. Craig J. Hawker's group at University of California, Santa Barbara, USA. After receiving Ph.D., he spent one year as a postdoctoral fellow in the same group and then moved to Prof. Marc A. Hillmyer's group at the University of Minnesota in 2009 where he worked on nanoporous polymers derived from block polymer precursors. He started his own career in 2013 as an assistant professor in the graduate school of nanoscience and technology at KAIST. His research interests focus on self-assembled organic nanostructures, particularly based on block polymers.
Honors and Awards
2016 Distinguished Teaching Award (Graduate School), College of Natural Sciences, KAIST (2017)
2015 Wiley-PSK JPS Young Scientist Award (2015)
2014 Distinguished Teaching Award (Graduate School), College of Natural Sciences, KAIST (2015)
EWon Assistant Professorship, KAIST (2015-2018)
Selected Publications
J. Oh, B. Kim, S. Lee, S.-H. Kim, M. Seo, Semipermeable microcapsules with a block polymer-templated nanoporous membrane. Chem. Mater. 30, 273-279 (2018).
J. Oh, M. Seo, Photoinitiated polymerization-induced microphase separation for the preparation of nanoporous polymer films. ACS Macro Lett. 4, 1244-1248 (2015).
M. Seo, S. Kim, J. Oh, S.-J. Kim, M. A. Hillmyer, Hierarchically porous polymers from hyper-cross-linked block polymer precursors. J. Am. Chem. Soc. 137, 600-603 (2015).
M. Seo, M. A. Hillmyer, Reticulated nanoporous polymers by controlled polymerization-induced microphase separation. Science 336, 1422–1425 (2012).
M. Seo, B. J. Beck, J. M. J. Paulusse, C. J. Hawker, S. Y. Kim, Polymeric nanoparticles via noncovalent crosslinking of linear chains. Macromolecules 41, 6413–6418 (2008).
M. Seo, G. Seo, S. Y. Kim, Molecular self-assembly of macroporous parallelogrammatic pipes. Angew. Chem. Int. Ed. 45, 6306–6310 (2006).